What are you up to this weekend? Here are a few of the Chic ongoings around Orlando!
Friday
What: Orlando Film Fest
Who: Chic Orlandoans seeking culture.
From the Orlando Film Festival website
: The mission of the Orlando Film Festival is to support and promote the arts in Downtown Orlando through the medium of film. The Orlando Film Festival seeks to inspire filmmakers and enhance the movie viewing experience in Downtown Orlando through creative, unique and entertaining events. We put a strong emphasis on celebrating our filmmakers because we are all filmmakers ourselves. We truly are a film festival for FILMMAKERS by FILMMAKERS!"
Saturday:
What: The Winter Park Famers Market
Who: Chic Orlandoans who want fresh, local food!
From the site:
The Winter Park Farmers' Market
is held at the old train depot, located at
200 West New England Avenue
, that has been restored into an historical landmark that hosts this NUMBER ONE produce and plant market in Central Florida. The market takes place every Saturday morning from 7 a.m. to 1 p.m. and is a popular community gathering place that provides fine produce, plants, baked goods and so much more.
Sunday:
What: Fleet Farming Swarm Ride
Who: Chic Orlandoans who want to ride about town while learning.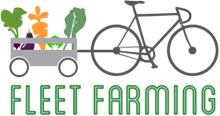 From Orlando Weekly:
Visit farmlettes and learn about urban farming on this three- to four-mile guided bike ride
Share in the comments below what you plan on doing this weekend!